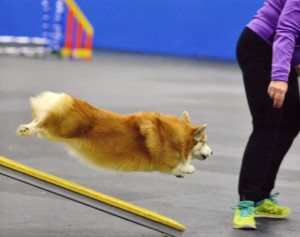 All group classes meet in our Gonic Mill training center. Classes cost $125 for 5 weeks, repeat class, multiple class/dog discounts available. To sign up by phone, call (603) 335-1191. Or, download and mail the application form. Complete and mail the form with $30 deposit to Ellis Dog Training. Make checks payable to Ellis Dog Training. Indicate on your check the class you desire. Include copy of proof of vaccinations. If the class you want is not available, we will phone you to discuss an alternative.


Proof of vaccination is required for all classes.
Private consultation and training by appointment.
Facility rental available to clients.
Please register early, class sizes are limited!
All classes taught by Diane Ellis unless otherwise noted*
*NEW** AMANDA FLEISCHMANN  WILL BE TEACHING A FUNDAMENTAL ONE CLASS IN TREIBBALL THIS NEW SESSION ON SATURDAY MORNINGS AT 9AM**FOR MORE INFO CHECKOUT www.nationaltreibball.com
STARTING WEDNESDAY, April 4, 2018-May2,2018
9-9:30AM PUPPY PLAY/SOCIALIZATION($10/DR0P IN; INCLUDED FOR PUPPIES under 5 mos in class)
9:30am  Puppy Level One/BASIC MANNERS COMBO CLASS
10:30am Puppy Level Two.
STARTING THURSDAY, April 12, 2018-May 10, 2018
9:00AM-10AM UTILITY
10AM COMPETITIVE OBEDIENCE(ALL LEVELS)
5:00PM RALLY O NOVICE(FIRST 42 SIGNS)
5:30PM BREED HANDLING CLASSES TAUGHT BY DIANA FINCHER($75/5classes or 20/dropin)
6:00-7:30 RALLY O ADVANCED/EXCELLENT(INCLUDES NEW SIGNS)
6:30PM OBEDIENCE RUN THROUGHS($7/RUN-ROTATING JUDGE SCHEDULE)
STARTING FRIDAY, April 6, 2018- May 4,2018
11:00AM COMPETITIVE AGILITY
Scentwork-4wks/Linda McKinnon;3/16,3/23,3/30,&4/6
5PM BEGINNER AGILITY
6-7:30 COMPETITIVE AGILITY
7:30PM INTERMEDIATE AGILITY
STARTING SATURDAY, April7, 2018-May5,2018
9:30am TREIBALL-BALL FUNDAMENTALS—MUST HAVE COMPLETED FUNDAMENTALS 1 CLASS
12-12:30 PUPPY PLAY($10 DROP IN; INCLUDED FOR PUPPIES ENTERED IN 12:30 CLASS)
12:30 PUPPY/BASIC MANNERS COMBO CLASS
2:00 PUPPY LEVEL TWO
3:00PM BEGINNER LEVEL 2 AGILITY
4:30PM AGILITY RUN THROUGHS ($7/RUN, DROP IN)
6-7PM CANINE GOOD CITIZEN